I already wrote my professional experience at ICPR 2018 in my previous post. Anyway, I would like to take it from a different perspective, from my personal grown. Since I suffered from a huge personal transformation in this travel. So be prepared, this post is gonna be long!
I don't like planes and I hate to flight!
Imagine my feelings about sitting alone during 12h in a plane going to the other side of the world. I was stressed and depressed. A different culture and even I'm able to speak Chinese kind of fluently, I was scared something would be just wrong being so far from home. It's something I use to call Unknown People Phobia, and Beijing has 32 million unknown people.
The flight was nice, luckily I haven't anybody by my side so I could sleep and watch Chinese cartoons. I have a complaint about Air China with food, they should have different options apart from meat and meat. I almost died of hunger that day but luckily I had some food in my backpack. And then 12h later I was there, waiting in the foreigner's office of the airport, to get into the country. I was in China, and I was alive, no heart attack, and no panic attack!
The first day is always the hardest
The first day of any solo travel is always the hardest because you are tired and you don't know anybody. So you have to manage by yourself to go out from your comfort zone and make new friends and quick as you can, maybe they will not be your perfect friends but, it's funnier to do things with other people than to be alone all the day long.
Two things I learned the first day in China
Beijing is full of Chinese people from all around the country, not just local city inhabitants.
Countryside people are very likely to be your friend since most of them haven't seen a foreigner in their entire lives and they feel curious about you. So the thing is: Making friends in Beijing is the easiest thing in the world!
In my first day, I visited Tiananmen Square, The Forbbiden City (only the outside, it was sold out), Wangfujing Street Market, plus the Olympic forest and park. The water cube where my idol, Michael Phelps won 8 golds and the Olympic nest.
Wherever I go, I always meet Italian friends
It's incomprehensible what I have with Italian people but I find them wherever I go, Barcelona, London, … and Beijing! I think is something cultural and people from the south of Europe are more likely to be friends in this kind of situations since we are more likely to understand the situation in the same way. Just enjoy the travel, no worries 🙂 In this travel, I met a lot of them (Leonardo, Federico, and Gabriele) and also the king of salsa, a Colombian guy named Alejandro (don't call my name, don't call my name xD), and Manu, a guy con mucho arte from Andalucia. All of them were researchers from the same conference.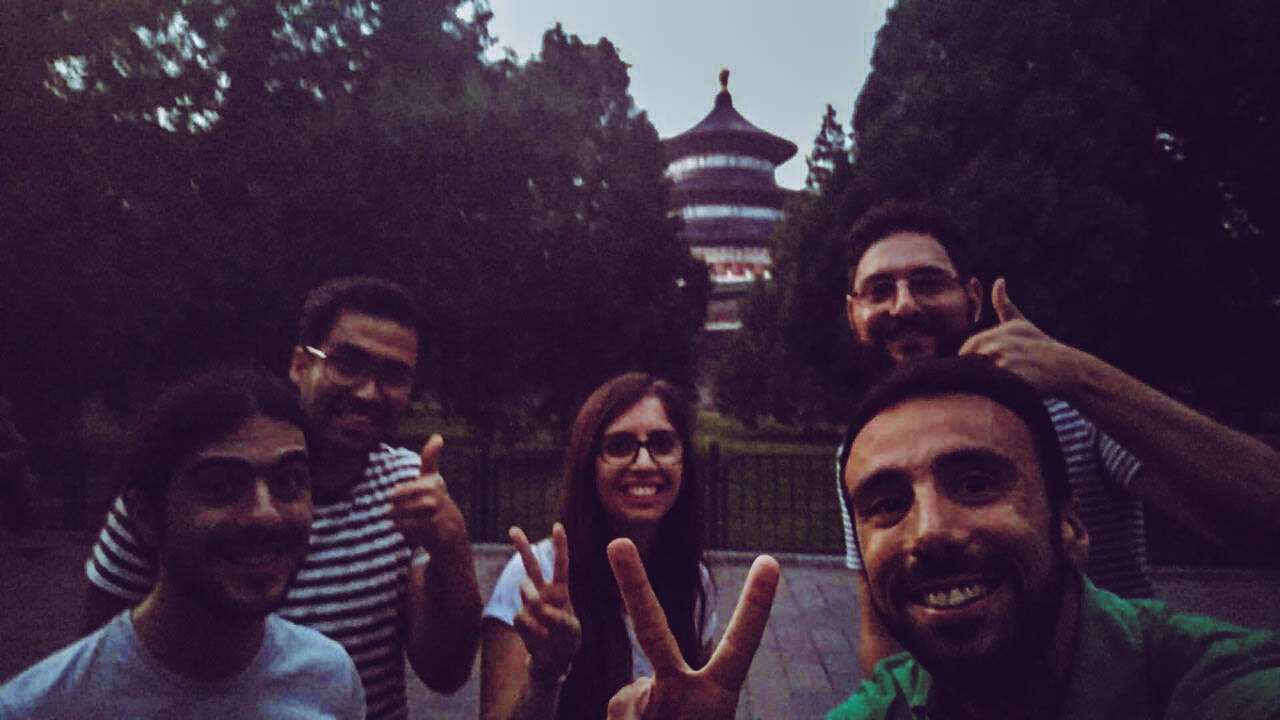 With the proper people, every travel becomes better and I'm very happy to meet them, especially Manu and Gabriele, they are now like my brothers from other mothers.
The Chinese adventure with taxis
A thing that is very shocking in Beijing is that NOBODY SPEAKS ENGLISH, and the few English speakers you can meet are very shy to talk to you. So when it comes to stopping a taxi in the middle of the night it can be an adventure, since they won't stop to get occidental people because they are scared to not understand you. Even if you are shouting to them in Chinese.
Me trying to catch an English Speaker in Beijing via GIPHY
We discovered it on Monday, later than 11 pm. The underground was closed and we were in the shouter Beijing, our hotels were close to Datum Road (northern Beijing, 3.5 hours walking) we had to ask two teenagers to stop a taxi for us so in the end we arrive at the hotel close to 1 am, and we had planned to meet at 6 am (wake up at 5 am), no much time to sleep and rest the body for a huge, huge walk.
Ba Da Ling
After the taxi driver experience, we also experimented the Beijing traffic jam premium experience (+1h in going there, +2.5 coming back from there). But it was worth it!
We climbed to the top of Ba Da Ling Great Wall! And we meet the Chinese Leo Messi. His family name was Liu, with a pronunciation close to Leo, and Chinese people use their family name in front of their given name so he changed his name to Messi to be, Liu (Leo) Messi. He is super funny and now is saving money to visit us to Barcelona and walk over Camp Nou!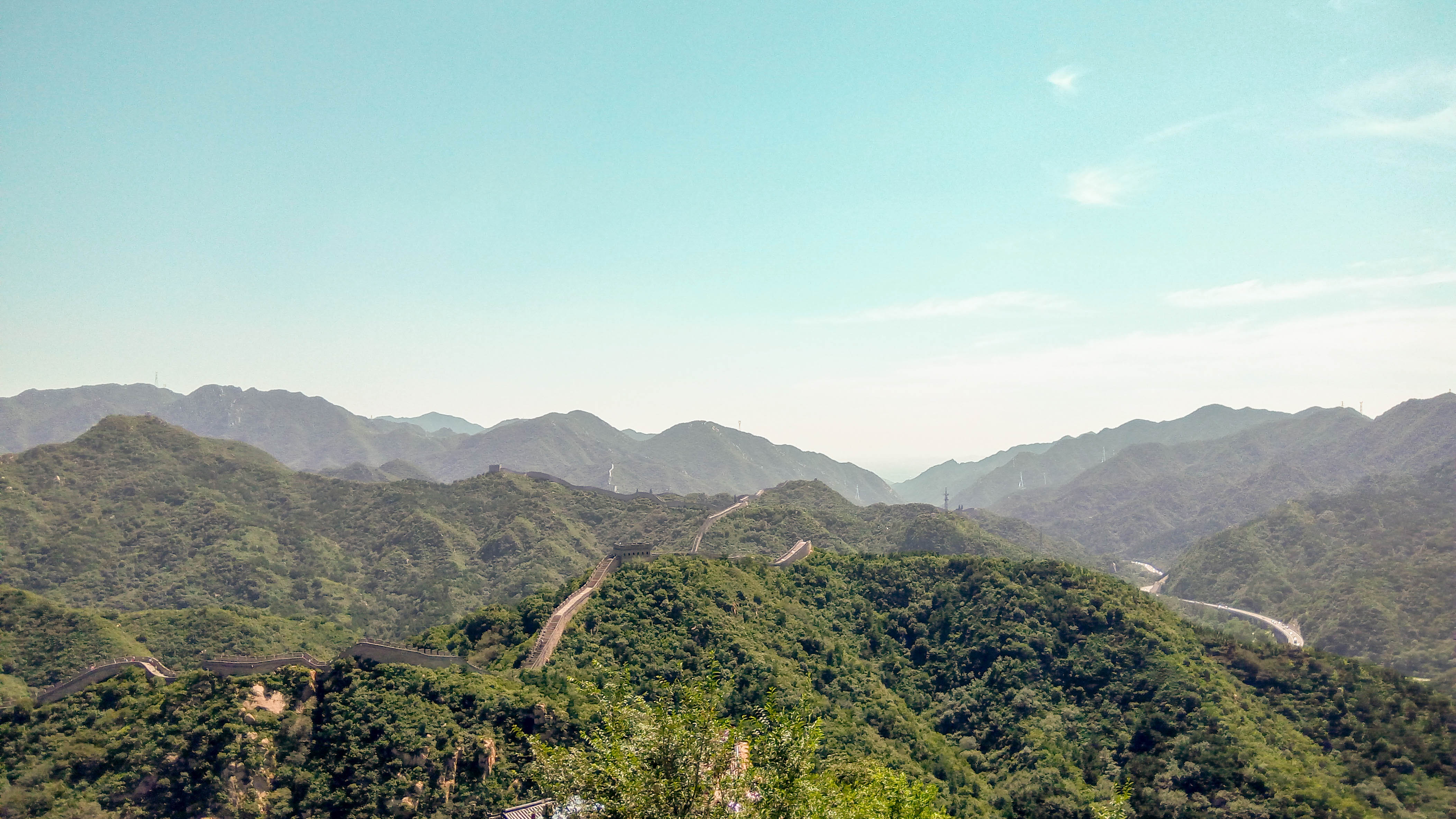 Funny fact: all the Chinese kids wanted to be my friends and take pictures with me. Maybe I should change my job and be a Chinese Pop idol 🙂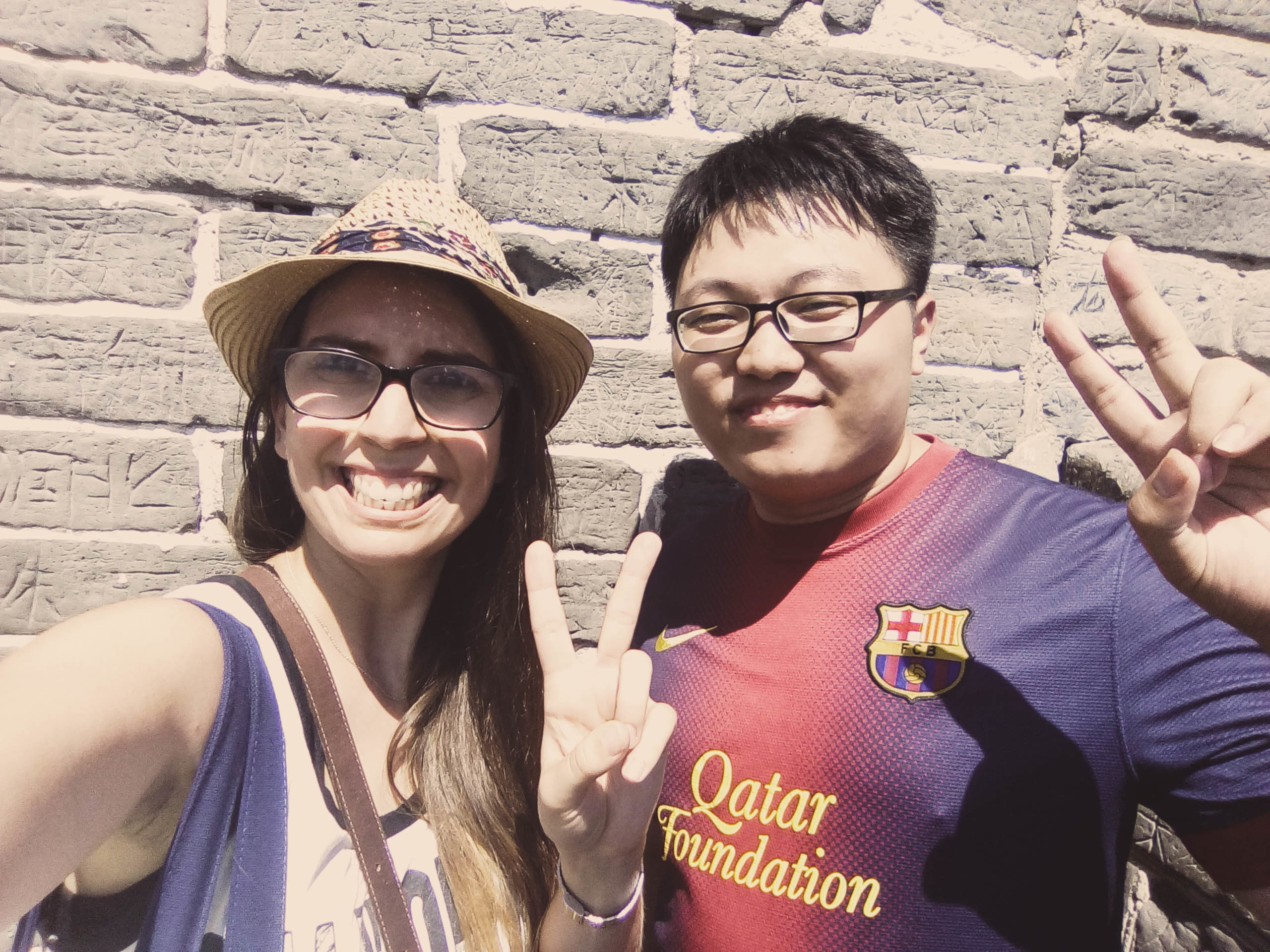 The traditional part of China
In the afternoons, it becomes very pleasant to go out from the Olympic touristic and high-level residence area and visit the most original part of Beijing. The neighborhood of Dongcheng and the Nanluoguxiang Hutong. It's an area full of narrow and crowded streets. Full of street food stands. You must try the spicy potato strew.
I'm crazy, if you know me, you won't get surprised but one thing I love when I travel is to talk to random people and start a conversation. The surprise was that the random people I talked to were Catalan too with a very strong accent!
Coming back we (Manu, Gab and Me), has the nice experience to be in an elevator with +30 people, luckily it was just for a 2-floor ride.
Royal Banquet at the Imperial National Gastronomy Museum
I've never eaten 21 dishes on the same day before, neither adding all the dishes I regularly ate from 6 am to 10 pm. So I was a little bit scared to eat that much taking into account my stomach condition (a paraesophageal hernia). But the experience worth it! There was a spectacle before serving us each of the dishes. Traditional dances, moderns dances, acrobatics, drama representations. A very complete dinner, I have chosen the veggie menu and it was really tasty, even I tried something called dried bacteria.
I make a new Indian friend which was super similar with the Hero's character Mohinder Suresh.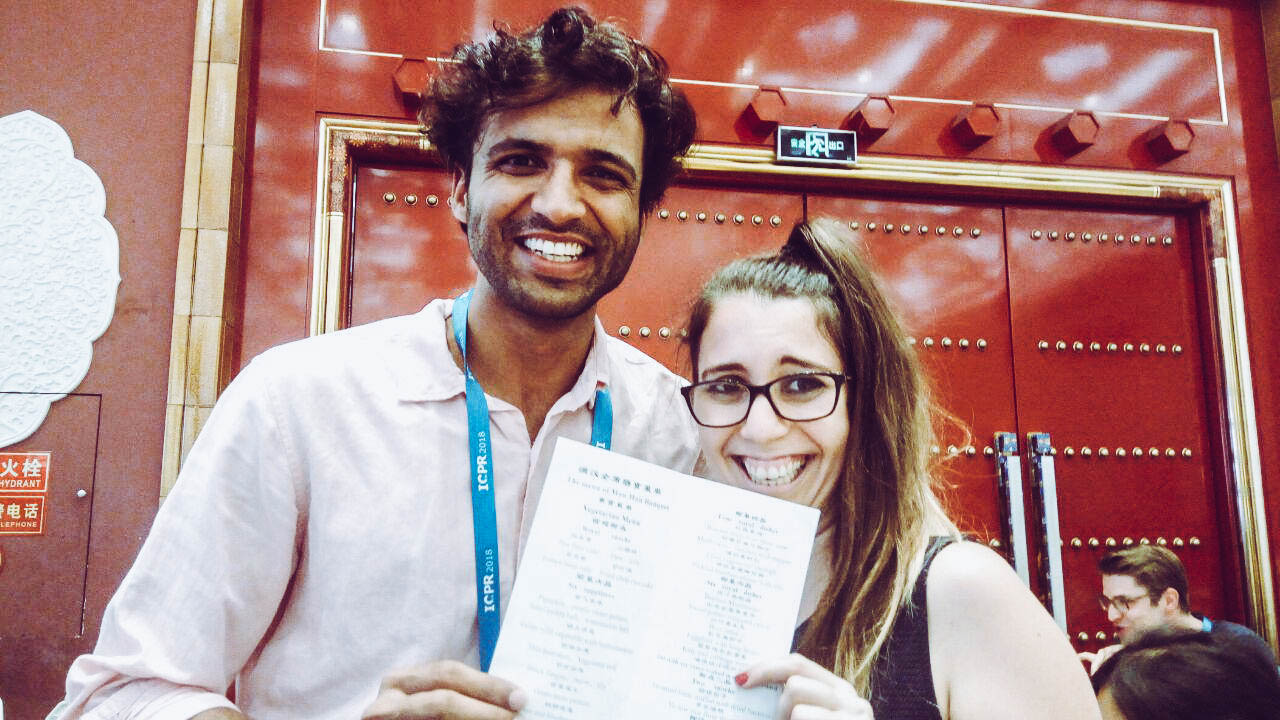 Chinese KTV and Clubs
We cannot leave China without giving a try to a KTV. So we rent a private room for seven for less than 40€ all the night including 12 beers and some food. Soho is the best place to go out in the Beijing night there is full of KTV, musical bars and clubs (and occidental people).
Just three things to have into account: 1. Almost all the girls in this clubs are prostitutes. 2: They will try to make you pay to entry to any dump, so before you pay, ask to see it, just pay if you really like the ambient and the place if not simply move on before any problem. 3. A karaoke is not a karaoke if you have to play all the instruments, so be sure you are in a real KTV instead of a musical bar, for them it is the same but with musical bars, you will not have as much fun with friends as in a KTV unless you are Maroon 5.
Beijing and the Olympic Area.
The thing I missed the most in China was REAL coffee, it is really difficult to find a good coffee since they use to drink like dark water or coffee with more than triple water. So it was very nice when we found a Starbucks in the Olympic Area where to stay after conference lunches and drink my single espresso.
During the night it is an amazing area to hang out with friends since is full of local tourists from the China countryside. It is also a good deal to go there to the Olympic buildings at night since during day they are boring but at night, OMG.
Throughout the last day, I wanted to take a pic with all Michael Phelps medals so I came with one of my new friends (Gab), and we almost melt over the asphalt, what a hot day in Beijing, most of all of them. I was red! So before leaving for the airport, it was a great idea to stop at our fav Starbucks and get an iced tea.
You can see more pictures on my Instagram account highlighted story Beijing 2018
Farewell
In the beginning, it was a travel which it didn't take any illusion. I didn't want to fly 12+12h, I didn't want to spend a week alone in China. The only good point was the conference, where I expected to meet some interesting people. The thing I discovered there was that I was unmotivated, as 54% of the Ph.D. students worldwide, and I was also depressed, as the 41% of the Ph.D. students worldwide. But to know other people from other regions which were in the same situation than me, or at least could understand my feelings was really peaceful. I survived a week completely out of my comfort zone.
During all Friday I had to hold back my tears. While my friend Gab was presenting his poster I was in a melancholic feeling. I didn't want the day to finish. I needed more hours with them. To spend the weekend in Beijing visiting new things together. To hang out around the city till late at night. But we run out of time and all I could think then was how much I need to finish my Ph.D. To get rid of all that feelings that don't belong to me.
It was 1 am, we were tired, Manu just was boarding the plane and I had to wait for 2 more hours to board mine. Goodbye China, goodbye new friends. You both have been a nice oasis in the middle of a tough desert. Thank you for fixing me, for letting me breath. Hope to see you soon!
As always, there was music in my heart. And even we listen to a lot of tracks together I was always singing in my head and heart the new Maroon 5 hit Girls Like You but changing the lyrics with Guys Like You.

After I realized that I never would be winning an Olympic gold in the 200m butterfly, I spend many years thinking about what to do in life, researching which path should I follow to accomplish my life goals that were on reach. So, it's not surprising that after many efforts in this research I became a researcher. First a news researcher (or call it journalist if you prefer) and later a scientific researcher.